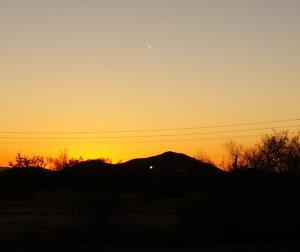 Sam Champion's been making a big hoopla lately over the comet PANSTARRS, Earth's most recent once-in-a-lifetime interstellar visitor.
Every morning he explains the details of the comet's appearance, going on about perihelion and secular light curves, terms as foreign to me as Sam's gassy traveler from the Oort Cloud.
It's all over my head, but still it's exciting to hear Sam Champion say words like magnitude and astronomical units, especially this early in the morning. "It's been in the southern hemisphere for the past couple years," smiled Sam. "Now it's our turn."
He then looked out at his viewing audience and invited them to share their best photographs of Comet PANNSTARRS. "Send us those photos," he said with a wink.
And what photos he received! Beautiful shots from Japan, Spain, even distant Grand Rapids, Michigan, all showing Comet C/2011 L4 as it hangs majestically beneath a dangling sliver of moon. If you close your eyes, you can imagine the groaning of the comet's ponderous bulk, the icy roar of her tail as she swings around our sun on a journey millions of years long. Amazing.
I decided right then: I would be Sam's next photo contributor. After all, I live in Arizona. Comet viewing conditions here are perfect, so I readied my camera and waited anxiously for night to fall.
At 6:37 PM, I ran outside. There she was, right on the horizon! Comet PANNSTARRS was smaller than Sam led me to believe, and farther to the south, but that had to be it. She was beautiful.
I found a clear spot at the fence on which to steady my camera and started snapping pictures, catching the perfect image just as the sun slipped below the horizon.
That night I emailed my photo of PANSTARRS to Sam Champion and went to bed, confident I would soon be on GMA. Maybe he would even ask me to come on the show. I could congratulate Robin on her recent recovery and goof around with Josh Elliott and Lara Spencer. When George Stephanopoulos wasn't looking, I'd spin his chair down to its lowest height and watch him peer over the table.
Sam and I would green screen the day's weather together.
He called the next afternoon. "Is this Mr. Hanson?"
"Sam?"
"Yes, this is Sam Champion." He sounded uncomfortable.
"So, you must be calling about the comet photo, huh?"
"I sure am."
"You must have really liked it."
"Well…" Sam didn't seem his normal chipper self.
"Did you see the tail on that thing? I think that's the best shot yet," I said. "When does it go up on your show?"
He interrupted me. "Mr. Hanson?"
"Yes, Sam?"
"Can I call you Kip?"
"Sure thing." If nothing else, he was very polite.
"That wasn't a comet, Kip."
What the hell was he talking about? "Sure it was, Sam. I saw it myself. I waited all day to take that photo."
"I'm sorry, but that was an airplane." Sam Champion sounded embarrassed.
"An airplane?" I said. "Was not!"
"Afraid so, Kip. It was just an exceptionally long contrail. Sorry." He didn't sound very sorry.
"Sam?"
"Yes, Kip."
"I didn't mean to waste your time."
"No worries, Kip. We here at GMA are here to serve our viewing audience. Better luck next time."
And just like that, he was gone. My hopes of national recognition were dashed. Better luck next time, my ass.
What's a weatherman know about comets anyway?