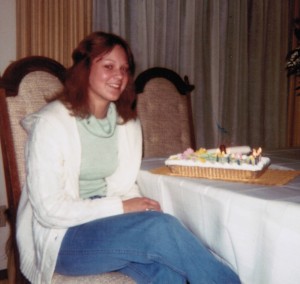 I got her two dozen long-stem roses for her 16th birthday. I was smarter back then, and should have just stuck with flowers going forward.
When she was 17, I bought her a pair of black gerbils. Because I wanted her to read Lord of the Rings, she named them Frodo and Bilbo. Sometime before Thanksgiving, Bilbo ate Frodo's tail. She screamed when she found him. Bilbo died before Christmas. We used the aquarium later for some fish.
For her 18th birthday, I bought her a weird rabbit puppet, with a pair of diamond earrings in its floppy ears. The puppet has long since disappeared. She still has the earrings, I think. I liked that puppet.
We were married on her 19th birthday. As I recall, we stayed home and enjoyed being legal drinking age. I have no idea what she got that year.
I bought a car stereo for our car on her 20th. It was a 1981 Chevette. She had a long drive to her job at the hospital. My brother Kirby and I got drunk, drove the car onto the patio, and stayed up all night installing it. I sold the car a year later.
Fast forward twenty-five years. Kirby and I drove to the Best Buy in Tucson and had them install a car stereo in her truck. We went to the bar and drank beer while they installed it. Nobody has ever accused me of being too original.
One year I got her a ring. It has a huge, ugly amethyst, the size of a walnut. I bought it from Tony, a pot dealer/amateur jeweler in Burnsville. Somewhere along the way, the ring was lost. Moving, house fire, who knows? She replaced it earlier this year, with one far less gaudy. It looks nice.
Over the years, there have been other things. Books, dinners, more flowers, an iPod, clothes. I might have bought a set of cookware in there. Not a good idea, I've been cooking ever since.
Too many gifts to remember, and nothing worthy of her. I should have done more. Nonetheless, I cherish the memories. I hope she does too. I'm looking forward to the next 35, and with luck, many more after that.
I love you, Nordic Warrior Queen. Happy Birthday.