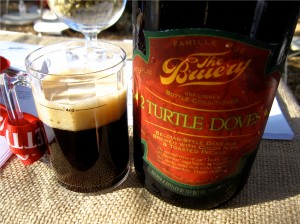 After the strange conversation I'd had with ex-Partridge Family member Danny Bonaduce, I felt the need for some refreshment. Luckily, the Yard House is just down the road, and they serve over three hundred beers. Surely they would have something to take away the weirdness of the afternoon's telephone call.
Ten minutes later I was pulling up a seat at the bar. The bartender walked over and introduced himself as Robert. "What can I get you?" he asked.
I noticed his nametag and laughed. BARKER. "Bob Barker?"
He scowled. "My name is Robert. Please don't call me Bob."
"Umm, okay…Robert. Do you have any good seasonals on tap?"
"I have Two Turtle Doves."
"Two Turtle Doves?"
"Yes. Two Turtle Doves. It's a Belgian Strong Ale. From California." I could tell he was growing impatient, like I should've known what he was talking about. "Do you want one?"
"Sure, Bob…uh, Robert. That's fine."
Bob Barker was right. Within a few minutes, I'd come to realize that Two Turtle Doves was an excellent choice. In fact, it was so good, I needed a second one. "Hey, Bob," I called. "Come on dowwwwwn."
From the look on Bob's face, I figured he'd heard enough Price is Right jokes to last a lifetime. "How about one more, Roberto?" I was feeling pretty good.
After the second one, I was feeling even better. I knew three Turtle Doves would be perfect. But Robert shook his head. "Sorry, sir. Only two Two Turtle Doves to a customer." He didn't seem very sorry. "It's twelve percent alcohol."
"Robert, isn't it kind of hard to say 'two Two Turtle Doves? I bet if you say it two times, that makes eight." Two Two Turtle Doves – this seemed pretty damned funny to me.
"I'm not sure what you mean, sir." Apparently, Robert Barker (don't call me Bob) has a dry sense of humor. "Can I get you anything else?"
"I'd better not, Bob. I have to drive." Another beer sure did sound good, though. "Wait! Do you sell growlers to go?"
Bob seemed quite happy to see my on my way. "Of course."
"Two Turtle Doves?" I asked hopefully.
"Sorry. I can't sell that in a growler. Too strong." He didn't seem very sorry. "How about Three French Hens?"
"Really? Sounds great. Set me up, Bobby."
…
I was five minutes from home when the unmarked car behind me switched on his dash bubble. Oh, crap. As I pulled into a nearby parking lot, I watched in my rearview mirror as Officer Anderson climbed out of his squad car.