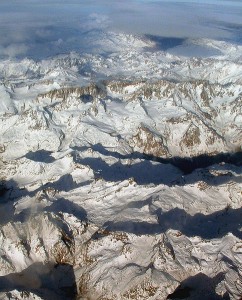 I got an email a few days ago from this ad agency, based in Sweden of all places. They wanted me to go to Chile, to do a story on a gold mine there. Chile? As in the country?
True, I'd done work for them before, but why me? She said the regular guy couldn't go, and they liked the last story I did, the one on the  bicycle manufacturer in North Carolina. If I could do it, they'd send me down with the camera crew on Friday, spend the weekend, and I'd interview the mine manager on Monday. I'd be home by Wednesday morning. She said the reason I had to go down so early was the altitude—acclimating to the thin air or something.
The mine was in the Andes.
Always prudent, I gave them a definite maybe and asked for the specifics: pay rate, article length, due date. All that professional stuff. And I reminded her that the flight was 16 hours in each direction—I don't mind traveling, but I wasn't about to spend the better part of two days in an airplane without getting paid for it, at least enough to cover a few movie downloads for my iPad, and maybe a new book to read during the flight.
They offered me $3000.
So let me get this straight: you want me to fly to Chile, travel to a gold mine in the Andes, write a 1500-word story about it, and you're going to pay me three grand? And cover all my expenses? Meals, hotel, and especially bar tab?
"When does the plane leave?" I said.
The Nordic Warrior Queen scowled at me, unhappy about the situation. She was concerned about my safety, time away from home, and whether I'd get paid or not. "They were slow payers last time, remember? And what if you get Dengue fever?"
"What?"
"Dengue fever. It's very common there."
I looked it up. She was right about the Dengue fever, and oh-by-the-way, reports of the Hanta virus, not to mention occasional revolutions. But didn't Thomas Jefferson say a little revolution now and then is a good thing? Or was it rebellion? Who cares? Life is all one big gamble anyway.
In the end, she supported me, as always.
The woman from the ad agency sent me a health questionnaire. Illnesses? Current medications? Known heart conditions? Blood pressure? Height and weight? "It's the altitude at the mine. They want to make sure you can handle it."
I assured her that I'm in top physical condition. I've climbed to the top of the Superstition Mountains twice, and take stairways two, sometimes three steps at a time. Hell, I was even jogging last summer, until I fell into that gopher hole and twisted my ankle. Damned gophers.
She called me back a couple hours later. "Umm, Mr. Kip. There's a problem."
"Okay. What's that?" I was in a great mood. In two days I'd be on my way to the Andes, the highest mountain range in the Western Hemisphere. I'd get to meet new people, visit a gold mine, and rack up enough frequent flier miles for a free ticket. And they were going to pay me to do it!
"Your BMI. It can't be over 25," she said.
"BMI? What's that?"
"Body Mass Index. Your BMI is 33."
"So what? I told you, I'm in great shape."
"But the mine, Mr. Kip. It's over 15,000 feet high. The manager won't let you in."
"I'm sorry, I don't understand. Why not?"
She hesitated before answering. "He says you're too fat. You'll have a heart attack from the thin air."
I thanked her and said goodbye, then hung up the phone. Afterwards, I wanted to protest. "I have big bones," but I never think of the right things to say until it's too late.
I didn't really want to go to Chile anyway. I could have caught Dengue fever.