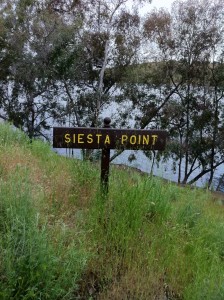 We were in San Diego this weekend and my grandson Matthew wanted to go trout fishing. Naturally, my son-in-law (being a famous shrimp boat captain) made the arrangements. And as Matt's grandfather, I was told to accompany them.
I agreed to go in a purely supervisory role: I'm no fisherman. But then the Captain said we had to leave at five o'clock in the morning. What?
I argued that this was much too early. Wouldn't the fish be sleeping? Besides, it being Sunday, wouldn't they have some sort of aquatic church services going on at that time: praying for catch and release, abundant insects from heaven, saying their Hail Marlins and all that? I contended that those fish wouldn't even look at a nightcrawler until noon.
He didn't see the humor in all this, and just gave me one of his looks. "You know nothing about fishing."
"Why don't we…" and then I was overridden by the Nordic Warrior Queen, who was envisioning several hours of early morning quiet.
We got to the park by 5:45 AM. The sun was still an hour away and it was cold. We waited in the car with the heater running until Ranger Bud arrived to open the gate. As we pulled in, the Captain rolled down his window.
"They biting?"
Ranger Bud was a garrulous sort. "Oh, ayuh. Just don't stick your fingers in the water or they'll take them clean off."
But the Captain takes his fishing seriously. "Sure, but what are they biting, Bud?"
Ranger Bud was nonplussed. "Oh, just about anything. Husky Jerks, Shad Raps, maybe a Wabler  or a Hot-n-Tot. Just watch for the boils," he advised.
The Captain nodded like this all made perfect sense and thanked Ranger Bud. As we drove into the park, I thought: what the hell is a boil?
While they setup their gear, I huddled against a tree for warmth. An hour or so later of staring at the water and I was showing the first signs of hypothermia. I decided I'd better take a walk.
I was half a mile down the road when I felt the call of nature, and slid down the hill through the grass and brush towards the water's edge so I could pee in the lake.
I had just finished writing my name for the fifth time (it's a short name and I really had to pee) when I heard a sound behind me. I turned and there stood Ranger Bud.
"You got a permit?"
"What?"
"I'm asking you if you have a permit, sir." Gone was his previous friendly nature, replaced now by a steely-eyed man of the law.
"I was only peeing, Bud."
"Don't matter none to me, son. Still need a permit."
"To pee?"
"Now don't you trifle with me, boy. This here's a serious offense. You're in violation of California Fish and Game Code Article 3, Section 7145 covering Sport Fishing Licenses. Afraid I'm going to have to take you in." Ranger Bud whipped out the cuffs.
"But, but…you're not serious?"
Ranger Bud looked me in the eye. I could see his determination to enforce the law, and knew I would soon be explaining all this to the Nordic Warrior Queen with a twenty-five cent phone call. I put my hands out, prepared for the inevitable."
After a moment, Ranger Bud started to laugh. "Of course I'm not serious. What's wrong with you, anyway? That there was just a little Park Ranger humor, son."
I laughed nervously along with Bud and, after a polite pause, started back up the hill. I suddenly very much wanted to go home. As I got to the road, Ranger Bud called up to me.
"Say, you're not from around here, are you?"