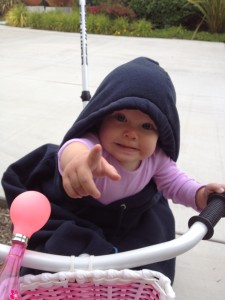 Do not be deceived by her innocent face, the angelic smile, or suffer my fate you will. No, the girl carries within her an awesome power, one capable of destroying the resolve of even the most steadfast grandparent.
The encounter was mercifully brief. She wheeled up to me, running over my toe without an ounce of remorse, and uttered a single word. "Papa."
My heart lurched. That black hoody, those piercing eyes. I cringed at her unmistakable authority—to persuade, to demand, to break the strictest of rules without fear of punishment.
She looked up, her eyes shaded beneath the dark cowl. Her four teeth glistened in a terrible grimace as she pointed a chubby finger at me. "Give me cake," she demanded. "And ice cream."
There was no compromise here, no chance of negotiation, only an undeniable ultimatum: serve dessert, or suffer her awesome wrath.
In the end, she knew she'd won. I would give her cake and ice cream, just as soon as her mother went shopping. And then, we would watch Dora the Explorer together, ignoring her parents' instructions. I was beaten.
Mounting her pink tricycle, she yawned once, whispered "Bye, bye," and rode away. It was nap time.